Licensed Manufacturing Warehouse (LMW) is a warehouse license under the provision of section 65/65A of the Customs Act 1967, Malaysia. The purpose of LMW is to give Customs duty exemption to all raw materials/ components and machinery and equipment used directly in the manufacturing process of approved produce from the first stage of manufacturing till the finished product is finally packed ready for export. With this facility, LMW licensees can import duty-free raw materials, equipment, or spare parts, subjected to a given limit by tariff codes.
For LMW application, the manufacturer can do submission at the nearest Customs Office which is close to the manufacturing premises, subject to conditions and procedures. All necessary information in the application form must be fully furnished with certificates, plans and other supporting documents e.g. company registration documents, local authority's certificate, design plans, flow chart, etc.
The manufacturer shall fulfil the terms as stated below:
Manufacturers who own a Manufacturing License under The Industrial Co-ordination Act 1975 (ICA) or have an exemption letter issued by the Malaysian Investment Development Authority (MIDA).
Manufacturing that conforms to the manufacturing interpretation of Section 2 (1), the Customs Act 1967.
Manufacturers that exporting more than 80% of the total value of finished goods for 12 months.
Besides manufacturing activities, LMW licensees are allowed to carry out other approved activities within its premises and subjected to certain conditions, as stated below:
Value-added activity
Re-manufacturing, repairing and servicing
International Procurement Center (IPC)
Regional Distribution Center (RDC)
LMW licensees are allowed to make local sales and such goods are considered if they are imported which only 20% of total manufacturing goods are allowable. As such, the imposition of duty/tax will be charged before the item is released (Refer to website: http://mysstext.customs.gov.my/tariff/). Special approval may be applied from the Malaysian Investment Development Authority (MIDA) for local sales with more than 20% of total manufacturing goods.
As part of the requirement to the Royal Malaysian Customs Department (RMCD), monthly and yearly return reports i.e. M1, M2, and M4 shall be submitted to Customs Office. Therefore, it is vital to do proper records, manage and supervise the duty exempted imports against the given limit.
Renewal of warehouse license fees shall be submitted at least a month earlier before expire, and fine will be imposed for late renewal. Bank guarantees must be submitted for those manufactured goods which categorized as critical items (e.g. clothes) and general bonds with Customs for non-critical items (e.g. plastic, steel).
General Flowchart For LMW Application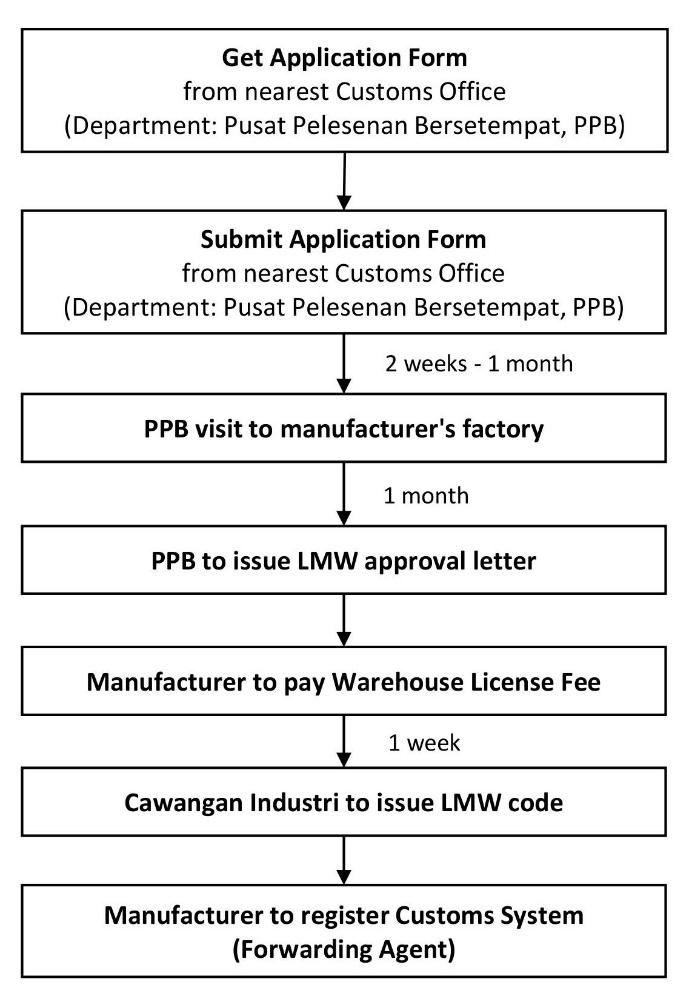 List of Documents Required
Covering letter
Form JKED No 1
Form A – Application for Licensed Manufacturing/ Warehouse under Section 65/65A of the Customs Act 1967
Copy of Certificate of Fitness
Copy of business license/ certificate issued by Local Authority
Company registration documents (Form A and D; M&A, Form 9, Form 49, Form 44 Form 24)
Copy of Manufacturing License issued under the ICA 1975
Location plan, layout plan, elevation plan (certified by Registered Architect)
Flow chart of the manufacturing process
List of machineries and tools, raw material/ components, finished goods
Input/ output ratio
Rental of premises agreement letter
A passport size photo and copy of identification card for each Director
Other relevant documents
Sample Drawing Layout
For the premises considered suitable as Licensed Manufacturing Warehouse, it must be permanently constructed building and secured to the requirement of the Director General of Customs. It is a must have separate storage space for raw materials, finished goods, production area, and packaging area in the building.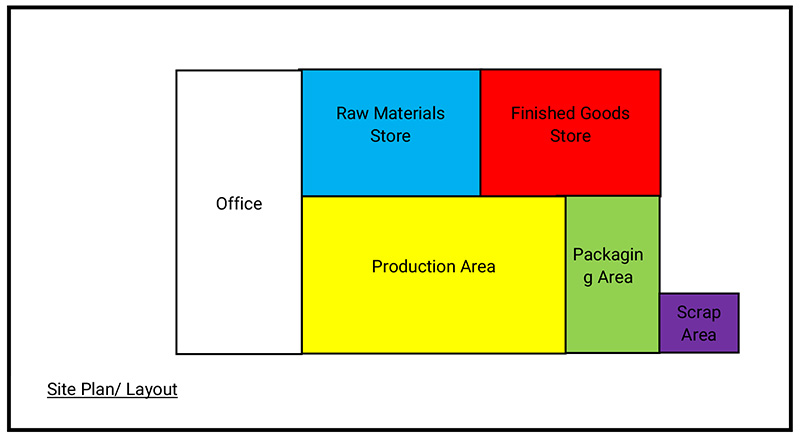 Simon LOW
General Manager
IPM Professional Services