Factories and Machineries Act (FMA) was introduced and came into force in 1967, to provide for the control of factories concerning matters relating to safety, health, and welfare of persons at work and to provide control on registration and inspection of machinery.
According to Factories and Machinery Act 1967, some machines need to apply for the Department of Occupational Safety and Health (DOSH) approval such as lifts, escalators, dumbwaiters, sandblasting machines, hoisting machines, petroleum pipelines and storage facilities, unfired pressure vessels (UPV) and steam boilers.
These machines need different kinds of approval from DOSH to operating legally, such as design approval, permission to install (PTI), permission to operate (PTO) and certificate of fitness (CF).
Machinery and Respective Submission Required for DOSH Approval:
A Lifts, Escalators and Dumbwaiters
Design approval submission
B Sandblasting Machines
Permission to install (PTI) submission
Permission to operate (PTO) submission
Certificate of fitness (CF) submission
C Hoisting Machines
Design approval submission
Certificate of fitness (CF) submission

Exemption: Design approval submission is not required for monorail crane with safe working load of 4 tons and below, provided that the girder is of I or H beam of standard properties. In addition, the following hoisting machines are exempted from obtaining design approval and certificate of fitness:

Boring rig
Drilling rig
Piling machine mounted on crawler track only
Winch for towing vehicle only
Dock leveler
Manipulator
Gangway tower
Vertical conveyor
Tail lift
Automatic Storage and Retrieval System (ASRS)
Monkey hoist with maximum lifting load of 80kg and maximum lifting height of 9 meters only
Air or pneumatic hoist with safe working load of 500kg and below only
D Petroleum Pipelines and Storage Facilities
For petroleum pipelines, submissions needed are:
Permission to install (PTI) petroleum pipelines submission
Permission to operate (PTO) petroleum pipelines submission
For petroleum storage facilities, submissions needed are:
Permission to install (PTI) liquefied petroleum gas bulk storage facility and gas fuel pipeline system to combustors submission
Petroleum equipment approval submission
E Unfired Pressure Vessels (UPV)
Design approval submission
Certificate of fitness (CF) submission

Examples:

Air container
Steriliser
LPG storage tank
Heat exchanger
Pressure vessels at the petrochemical plants
F Steam Boilers
Design approval submission
Certificate of fitness (CF) submission

Examples:

Autoclave
Electric steam boiler
Water tube steam boiler
Fire tube steam boiler
Recovery Steam Generator (HRSG)
Hot water boiler
Thermal oil heater
Summary of The Submission Required for Different Types of Machinery: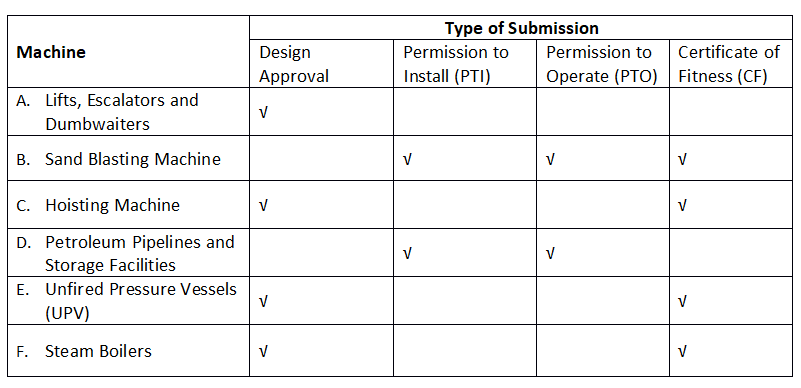 Ir. Dr. Justin LAI Woon Fatt
CEO/ Founder
IPM Group
Reference:
1. Approval and Authorisation. (2020, February). Department of Occupational Safety and Health. Retrieved from http://www.dosh.gov.my/index.php/about-us/main-services/enforcement/approval-and-authorisation